Software development companies are springing up like mushrooms, and the competition is also fierce. Businesses are caught in a frenzy to spot the best among the crowd of IT companies and present their queries.
Kerala also doesn't stand alienated from this competition. The Startup Mission has led to a technology boom in and around Kerala, with many IT companies actively functioning with a prestigious club of projects.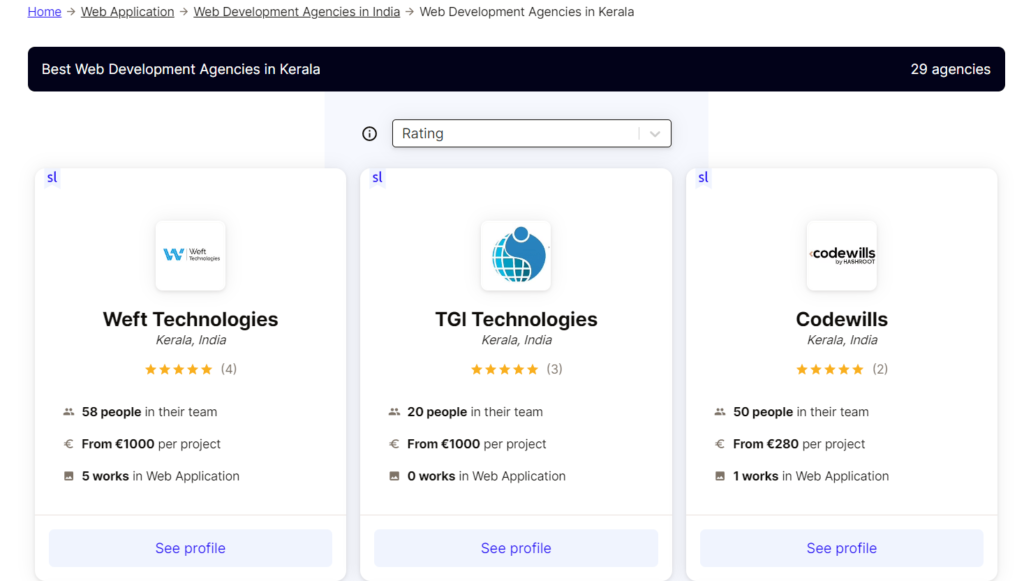 This situation leads to a situation where businesses resort to search engines to get a sorted list of the best-performing companies in terms of portfolios, years of experience, client feedback, and many more factors. Sortlist is a collected, refined, and best-performing search engine that provides top results of the best-performing IT companies in each zonal region.
Sortlist compiles a long list of profiles of registered IT companies and presents a suggestion list for all new project queries and client requests.
Soon after registering on Sortlist, Weft was indexed in the top search results for "best software development companies in Kerala". Weft gained such a position by keeping the limited shelf life of each project, and the Weft development team is keen to deliver a publishable app or intuitive, high-performing e-commerce store soon after the project is on board.
The value given to timeline and affordable pricing plans with a willingness to accept any new thread of thought or concern presented by the client board has leveraged Weft to the top position. The flexible technology stack and openness back all these to new streams of technology platforms.
It's quite a moment of pride to notice that Weft Technologies has positioned itself as the top-ranking software company in Kerala and got recognized for its prestigious line of project decks by Sortlist! We are looking forward to more exciting projects and challenges coming on board!